How Apple Cider Vinegar May Help Treat Toenail Fungus
Tuesday, 29 May 2018 00:00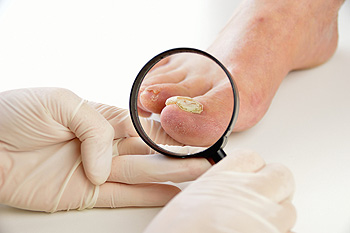 If you notice that your toenails are starting to thicken or change color, there is a chance you may have onychomycosis. Onychomycosis is the medical term for the condition commonly known as toenail fungus. If you are in the early stages of developing toenail fungus, you may notice a white or yellow spot under the tip of your toenail. Afterward, you may notice that the fungus will travel deeper and start to discolor, thicken, or distort the edge of the nail. Nevertheless, there are items you likely have in your kitchen cabinet that can aid in fighting toenail fungus. Apple cider vinegar is a popular remedy for toenail fungus due to its antifungal properties. If you want to treat your fungus using ACV, you can soak your feet in a mixture of warm water and the vinegar for about 15 minutes, twice a day. When purchasing the ACV, you should make sure it is raw, unpasteurized, and organic. For further assistance with treating toenail fungus, please consider scheduling a consultation with a podiatrist.
For more information about treatment, contact Dr. Frederick Quirante of Texas. Our doctor can provide the care you need to keep you pain-free and on your feet.
Toenail Fungus Treatment
Toenail fungus is a condition that affects many people and can be especially hard to get rid of. Fortunately, there are several methods to go about treating and avoiding it.
Antifungals & Deterrence
Oral antifungal medicine has been shown to be effective in many cases. It is important to consult with a podiatrist to determine the proper regiment for you, or potentially explore other options.
Applying foot powder on the feet and shoes helps keep the feet free of moisture and sweat.
Sandals or open toed shoes – Wearing these will allow air movement and help keep feet dry. They also expose your feet to light, which fungus cannot tolerate. Socks with moisture wicking material also help as well.
If you have any questions please feel free to contact our office located in Nederland, TX. We offer the newest diagnostic tools and technology to treat your foot and ankle needs.
Read more about Toenail Fungus